Language Arts
English I:
The goal of English I is to introduce freshmen English students to a variety of literary genres. By the end of the school year students should able to define several literary terms and to present examples of these terms from the assigned literature. In addition to developing their literary skills, students will also work on developing an effective and grammatically correct writing style by studying grammar and writing several paragraphs and essays. (2 semesters, 5 credit hours per semester)
English II:
Sophomore English is meant to build on the skills mastered in English I, allowing students to develop in their writing and to expand on their understanding of literature and research. Grammar and usage will be studied in the interest of improving students' writing. Assigned reading will come from the textbook as well as three additional novels. Students will also receive several assignments asking them to analyze books that they read outside of class. The improvement of vocabulary will be targeted through quizzes over words from in-class reading as well as a study of root words. Students will demonstrate their progress through tests, essays, presentations, journal writing, and a research project. (2 semesters, 5 credit hours per semester)
English III:
The purpose of English III is to expose students to a variety of United States literature, to help students enhance their writing by completing writing and grammar assignments, and to improve students' vocabulary through weekly testing. During the first semester students will survey United States literature from its nebulous beginnings up to the 1920s. The purpose of this first semester survey is to examine themes present in our earliest literature that have carried over into our modern literature and culture. It will also help students understand what it means to be "American." During the second semester students will read novels and plays written by post 1920s United States authors so the students can examine these authors' views of concepts such as the "American Dream," individualism, religion, democracy, capitalism, and industrialism. It is expected that students will begin to develop their own opinions about these concepts. Besides studying United States literature, students will also complete a paragraph assignment and two expository essays during the first semester. These writing assignments are designed to enhance the students' writing style as well as sentence structure and variety. During the second semester, students will complete a 6- to 8-page research paper and one other essay on a topic to be named later. The purpose of completing a research paper is to help students understand the time involved in completing a research paper and to help students learn the proper format, style, and tone of a research paper. In addition to studying literature and writing, students will also prepare for the ACT English test by taking practice ACT English tests and by studying grammar usage rules, punctuation rules, and sentence structure errors. (One practice ACT English test will be averaged into each student's grammar test grade.) While preparing for the ACT English test, students will hopefully strengthen their knowledge of formal grammar so they may apply it to their writing. Finally, students will have an opportunity to expand their vocabulary through weekly vocabulary tests. (2 semesters, 5 credit hours per semester)
Advanced Placement English Language (A.P. English) (Junior Year)
Students in AP English Language and Composition will write a variety of essays, prompted by reading a variety of American literature. Since AP English Language emphasizes writing, the course is organized by different types of composition, including personal, persuasive, comparison/contrast, synthesis, cause/effect, analysis and descriptive. Students will keep an observation journal for three of the major novels they will read.
A major argumentative research paper is also included. As a final paper, students will write a process paper entitled "How I write a paper", with the objective of self analysis and a guide for future writing. As an introduction to the course, students will study the vocabulary and applications of rhetoric. Students will also have periodic AP practice reading and writing tests. (2 semesters, 5 credit hours per semester)
English IV:
The goals for English IV involve writing, reading, and developing critical thinking skills. In regards to the writing goals, students study sentence construction to identify strategies to improve their complexity and variety of sentences. An effort is also made to improve essay writing by breaking away from the five-paragraph essay in order to practice writing essays that will be more commonly required in college. In the course of their writing adventures, students will also review the use of library databases, review the evaluation of internet sources, review resources available in the school library, continue to practice the use of MLA style, apply the use of research skills to writing in literary analysis, and practice the use of effective quotations to strengthen the arguments in their essays. In regards to the study of literature, students study novels and short stories significant to the development of British literature. Students also study the schools of thought relevant to the development of British literature, including but not limited to the Enlightenment, Romanticism, Victorian Age, and Modernism. Students will further continue to study the basic elements of literature, including a review of literary criticism and its use in writing. Finally, students will continue to study poetry by reviewing poetic vocabulary and studying poetic forms as they apply to British poetry. Finally, in regards to the development of critical thinking skills, students are asked to participate in group discussions about the assigned literature. In doing so, students are asked to evaluate, analyze, critique, and just plain think about their assumptions, their classmates' assumptions, and the assumptions presented in the literature. (2 semesters, 5 credit hours per semester)
Advanced Placement English Literature and Composition (A.P. English) (Senior Year)
The primary goal of this course is to prepare students for the AP English Literature and Composition exam, as well as to prepare them for college level reading and writing. Students will analyze a wide variety of literature during the year, including novels, drama, and poetry, with a focus on British literature. Along with weekly writing assignments, students will be asked to critique each others' work in the interest of improving quality of both writing style and literary analysis. All reading should be approached with an active mind, meaning deep engagement with the text that elicits questions and responses. Considerations of structure, theme, style, tone, figurative language, symbolism, and imagery will be incorporated into the discussion of each course text. (2 semesters, 5 credit hours per semester)
Writing Elective:
Writing Elective is a class designed to help international students with their writing skills. The class will include journal writing, grammar and usage practice, paragraph writing, essay writing, and help with writing from other classes. (2 semesters, 3 credit hours per semester)
Reading Elective
The primary goal of the Reading Elective is to help students on their journeys of obtaining the elusive goal of being labeled a "well-read person." Students will do this by reading novels noted for their literary merit. A second goal is to help students improve their class discussion skills and critical thinking skills by leading and participating in class discussions about the novels. Students will also work on their critical thinking skills by writing a one to two-page reflection paper due each week. Furthermore, students will complete an objective exam at the completion of each novel. Finally, there may be random "pop" quizzes to ensure that students are staying current with their reading assignments. (2 semesters, 5 credit hours per semester) Prerequisite: Junior/Senior Standing
Speech:
All freshmen at Mount Michael are required to take an introductory speech course. The basics of public speaking — including projection, diction, physical expression, speech structure, and speech writing — are taught. The types of speeches performed in this class include demonstrative, informative, persuasive, dinner speeches, etc. (Two semesters; 2 credit hours per semester)
Advanced (Competitive) Speech:
This two-credit course is designed for students of any grade level who want to further develop their public speaking skills by preparing for and competing in area speech tournaments. The class and practice sessions meet weekly before school, after school, or in the evenings. Students are expected to participate in six or more weekend speech tournaments in late fall and winter, and practice outside of class. Students choose from among 10 areas of competitive speech, focusing either on performance (e.g. duet acting, dramatic, poetry or humorous interpretation) or oratory (e.g. persuasive, informative or extemporaneous speaking). Many students choose more than one event. Oratory events will also help students develop their writing and researching skills. Students, including freshmen, may enroll for as many years as they wish to compete. (2 semesters, 2 credit hours per semester)
Journalism Courses: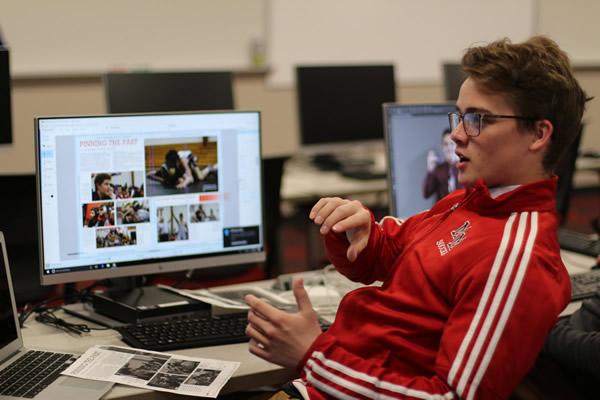 The journalism courses are offered as electives starting at the sophomore level. The primary focus of these courses is to develop students in the areas of journalistic writing, photography, newspaper design and layout, and yearbook design and layout. The students also have an opportunity to compete against students from other schools in several journalism competitions sponsored by Creighton University and the University of Nebraska – Lincoln.
Journalism I:
This is a year-long course offered as an elective for sophomores and juniors. It focuses on basic journalistic skills as well as preparing students to participate on the publications team. Skills covered include reporting, writing, editing, layout, photography, graphics, and broadcasting.
By the end of the course a student will be able to:
• Develop and conduct good interviews
• Organize stories in various journalistic styles and mediums
• Distinguish fact/opinion, bias, and slant in news articles and apply in your own writing
• Write a variety of different types of news stories
• Produce journalistic pieces using other medium including photography, audio, and video
• Understand the profound effect technology has had on modern journalism
. (2 semesters, 3 credit hours per semester)
Journalism II/III:
This is a year-long course offered as an elective for juniors and seniors
This course continues the development of journalistic skills through the publication of the school newspaper, The Mount, its online companion, The Freelance and the school yearbook, The Seeker.  Students will actively participate in the decision-making process and production of all publications
After successfully completing this course, a student should be able to:
• Produce stories in all mediums that are interesting to our reader base.
• Take photographs, are interesting, technically solid, and properly formatted.
• Layout newspaper and/or yearbook, building strong skills in Adobe In-Design/Photoshop
• Meet deadlines
• Make sound decisions, work as a team, lead well, communicate with others to accomplish a common goal—publishing the best newspaper and yearbook possible
• Compete well in journalism competitions.
(2 semesters, 5 credit hours per semester)
Prerequisite: Journalism I