Father Patrick Cunningham
Saint John Seminary College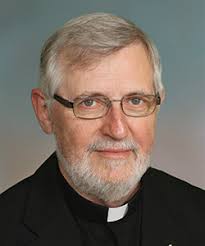 I grew up in a small town in Kansas the oldest of ten children. Growing up I alternately had three desires for my life. To someday take over our dad's hardware store, or have a career with the military, or become a priest.
I came to St. John Vianney for two years fully expected to return for my junior year. But that summer I met a blue eyed, black haired Irish lass by the name of Judy Kennedy. As madly as I was in love with her, she had no use for me. It took me six years to convince her otherwise.
We were married for 42 years, have eight children, and 15 grandchildren. In 1995 I was ordained a deacon. In February of 2008, Judy was born into eternal life and in 2009 I entered the seminary. I was ordained a priest in 2013. I currently serve as the pastor of three parishes in the Diocese of Bismarck ND.