Bishop William J. Dendinger
Class of 1957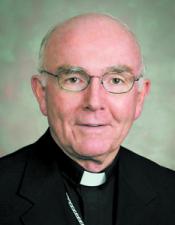 Bishop William J. Dendinger graduated with the first graduating class of Saint Johns Seminary (Mount Michael High School) in Elkhorn in 1957. Bishop Dendinger graduated from Immaculate Conception Seminary in Conception, Mo., with a Bachelor of Arts degree in philosophy in 1961. He continued his education at Aquinas Institute in Dubuque, Iowa, and received his Master of Arts degree in theology in 1964. He was ordained to the priesthood on May 29, 1965, in the Omaha Archdiocese. In 1969, he received his Master of Science degree in counseling from Creighton University in Omaha. Bishop Dendinger taught at Petersburg and Elgin Catholic high schools, now Pope John XXIII from 1965 to 1970. Later that year Bishop Dendinger entered the military as a chaplain. Over the next 31 years, Bishop Dendinger served as a base chaplain, cadet wing chaplain, a member of the chaplain resource board for the United States Air Force Chaplain Institute, plans and programs officer in the Office of the Air Force Chief of Chaplain Service and then chief of the Air Force Chaplain Services. He retired in 2001 as a two-star general. Of his many duties, Bishop Dendinger said celebrating the sacraments is the most inspiring and has enjoyed seeing the changes since Vatican II with more congregation participation, evident in his position at St. Stephen the Martyr Church in Omaha.
Bishop Dendinger served as pastor there until October 2004 when he was named Bishop of the Grand Island diocese. Bishop Dendinger was ordained as the seventh bishop of the Grand Island Diocese on December 13, 2004 at the Cathedral of the Nativity of the Blessed Virgin Mary in Grand Island.