Bill Doucette
Class of 1967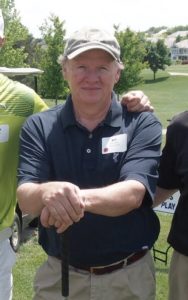 When I left St. John's Seminary in May of 1967 I was certain I would never come back. At that time I didn't appreciate the impact the four years there would have on my future. Several years later I realized, as many alumni eventually do, that you can leave the community, the school and the monks but the Benedictine experience will never leave you.
Entering college, I was surprised at how well I had been prepared. I had the discipline and study habits taught by the monks, and the enthusiasm for learning I picked up from my high school friends. I went on to earn a Bachelor's and Master's degree in Psychology at U.N.O. and spent five and a half years working with emotionally and developmentally challenged kids.
In December 1975 I married Mary Kay LaBute in 1978 we had our first child, Lindsey, who is now an 9attorney in Seattle. Our second daughter Terra was born in 1981. Today she is a Nursing Research Coordinator in Denver. We have three grandsons and two granddaughters.
Early in 1976 I was offered a job as a sales rep for a major orthopedic manufacturer. After three and a half years with little success, my wife and I decided we could do better as an independent distributor. In 1980 we started Surgical Specialties, a multi-state sales and distribution company focused on orthopedic and general surgery products. Three years later we acquired distribution rights to Biomet Inc., a five year old company with zero sales in our territory. By 1989 I was their "Distributor of the Year" and the Wall Street Journal called Biomet the fasted growing orthopedic company in the world. For the next fifteen years I rode the wave of a rapidly expanding total joint market. Having met my contractual and financial goals in 2004, I retired. For seven years Mary and I spent winters in Scottsdale, AZ and decided to move their full time in 2016. We hope to spend summers in Denver.
In retrospect it's difficult for me to imagine where I'd be today had it not been for the unique education I received from my high school, now known as Mount Michael Benedictine.