Mount Michael Alumni Association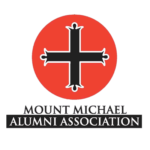 Mission Statement
The mission of the Mount Michael Alumni Association is to create lifelong, mutually beneficial relationships
between Mount Michael alumni, future alumni, and the high school through scholarships, social programming, and networking.
Operations of the Alumni Association fund the Fr. Benedict Dohle Alumni Scholarship, which has been
awarded to eight students in the past three years in the total amount of $31,400.
Contact Us
Email: alumni@mountmichael.org
Phone: 402-238-1447
Association Board Members
Eric Crawford ('00)
Channel Sales Manager at Merchant Processing Pros
Alumni Association President


Board Member: 2005-2011, 2021 – present

John VonDollen ('12)


Director of Alumni Relations & Communications at Mount Michael




Alumni Association Treasurer




Board Member since 2018



Dylan Parlor ('07)
Converged Infrastructure & Cloud Sales Specialist at Sirius
School Board Representative


Board Member since 2016

Davis Wilson ('14)
Acquisitions Associate at Metonic Real Estate Solutions
Alumni Association Golf Chair
Board Member since 2019

———



Joe Ernst ('12)


Project Manager at Johnson Hardware




Board Member since 2018

—-


Nick Hall ('07)
Financial Planner at Lutz Financial
Board Member since 2016


Dan Hassing ('02)


Partner at Lamson, Dugan, Murray LLP




Board Member since 2020

—



Graham Jewell ('12)


Territory Manager at Align Technology


Board Member since 2020

Jeff Kosse ('89)


Instruction Design Technology Specialist at UNL




Board Member since 2018



Tom Maliszewski ('13)


Director of Admissions at Mount Michael


Board Member since 2018


Fr. Louis Sojka O.S.B. ('81)
Business Manager at Mount Michael
Abbey Representative
Board Member since 2005

Cooper Wilson ('14)


Commercial Brokerage Associate at Colliers International


Board Member since 2019