Mount Michael Alumni Association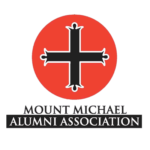 Mission Statement
The mission of the Mount Michael Alumni Association is to create lifelong, mutually beneficial relationships
between Mount Michael alumni, future alumni, and the high school through scholarships, social programming, and networking.
Operations of the Alumni Association fund the Fr. Benedict Dohle Alumni Scholarship and the Br. Mel Tichota Legacy Scholarship.
Alumni Association Board of Directors
Dan Gard ('04)
Director, Decision Support and Financial Analysis at Nebraska Medicine
Alumni Board President


Board Member since 2023



Eric Crawford ('00)
Director of Advancement at St. Patrick's Church
Immediate Past President


Board Member: 2005-2011, 2021 – present

John Von Dollen ('12)


Director of Alumni Relations & Communications at Mount Michael




Alumni Association Secretary & Treasurer


Board Member since 2018

Steve Allely ('81)


Property Management




Board Member since 2022

Greg Beninato ('89)


Retired from FBI


Board Member since 2023

Jim Clements ('95)


Executive Director at Project Houseworks




Board Member since 2022

Rob Copenhaver  ('77)


President of OSX Sales Solutions




Board Member since 2022

Michael Danahay ('96)


Owner of Dental Innovations




Board Member since 2022

Matt Dugick ('16)


Account Recruiting Manager at Aerotek


Board Member since 2023

Sam Fischer ('86)


Retired political operative




Board Member since 2023



Dan Hassing ('02)


Attorney at AOPA




Board Member since 2020

—



Graham Jewell ('12)


Territory Manager at Align Technology


Board Member since 2020

Jeff Kosse ('89)


Instruction Design Technology Specialist at UNL




Board Member since 2018



Tom Lewis ('86)


Dentist and Owner of Elite Dental




Board Member since 2023

Tom Maliszewski ('13)


Director of Admissions at Mount Michael


Board Member since 2018

Nico Marasco ('12)


Realtor at BHHS Marasco Real Estate Group


Board Member since 2023

Cooper Wilson ('14)


Commercial Brokerage Associate at R&R Realty


Board Member since 2019

Davis Wilson ('14)


Senior Real Estate Associate at Nelnet




Board Member since 2019



Contact Us
Email: alumni@mountmichael.org
Phone: 402-238-1447