campus ministry
"All guests who present themselves are to be welcome as Christ , for he himself will say: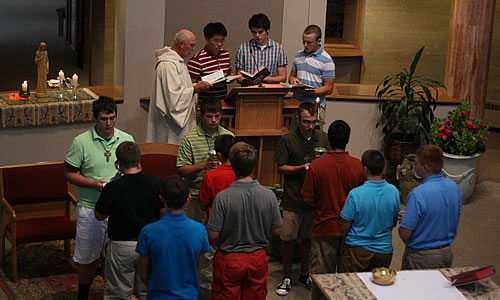 I was a stranger and you welcomed me (Matt 25:35)" Rule of Benedict 53.1.
At Mount Michael, the search of God is fundamental to understanding the meaning of life. Christian love is grounded in our relationships with ourselves, our families, and all whom we meet.
Mount Michael Benedictine School aims to nourish the gifts of the individual in order to put them at the service of all. Mount Michael Benedictine strives to provide stimulation and encouragement for young men to grow intellectually, personally, and spiritually. We consider our Campus Ministry program to be central to that growth.
A Benedictine school points to the Gospels and to Jesus Christ in the way it celebrates and values the image of God in each individual. Cardinal Hume, a former Benedictine Abbot, writes, "Above all, a good education must result in young people being not only gifted and accomplished, but also wise and holy."