Community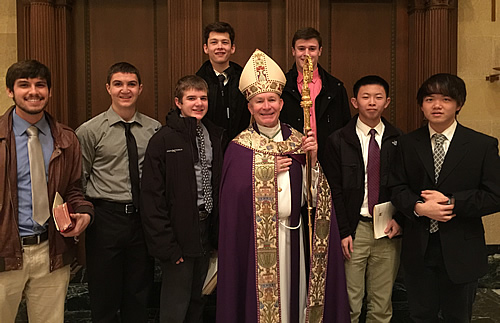 Community is central to the Mount Michael experience. This communal focus is founded in the presence of the monastic community which lives, works and prays at Mount Michael 365 days a year.
The boarding program creates a unique environment on campus that goes well beyond the usual academics and activities at most schools. The 24 hour a day nature of Mount Michael fosters a family atmosphere that just cannot be found in a day school. While not all Mount Michael students opt to be boarders, they and their families repeatedly mention an appreciation of the special gifts the boarding culture lends to all.
Since our school has a small enrollment, it is easy for everyone to get to know one another. Parental involvement is essential to the Mount's continuing success. Everyone has special talents to offer the community. Through working together the bonds that develops between parents, students and faculty are something that makes Mount Michael strong. It is this special communal aspect of Mount Michael Benedictine that leaves our graduates with a special sense of being part of a life long brotherhood.