Freshman spends time building computers, skills for his career
03/18/21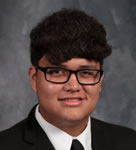 Previously published in "The Mount" a publication produced by the staff of Mount Michael's Journalism team. Follow the journalism team via Facebook, Twitter, Instagram and YouTube links on https://mountonline.org
BY AIDEN FRAZIER
Building computers is no easy task; it often takes time and patience to complete. But to Leo Ramsey '24, they are just "more complex lego pieces."
Ramsey has been building computers ever since he was eleven years old, when his friend got a computer for Christmas.
"I started off building a friend's PC one Christmas when we were young," Ramsey said. "I helped him because he didn't know how to, and I really enjoyed it."
Ever since the first build, Ramsey has gone further with his passion and started to learn how to do more things with computers by watching lots of tutorials from youtubers such as Linus Tech Tips and Marques Brownlee.
"A lot of my inspiration came from popular tech youtubers," he said. "I kind of just grew from there."
Ramsey has been interested in computers since he was young. His parents, Matthew and Kim Ramsey, sent him to summer camps at UNO to take courses on coding and app development to help him explore his passions.
"A few years ago, he started learning as much as possible about computer parts," Kim Ramsey said. "But most of that was self-initiated."
With his inspiration, Ramsey and his friends started building computers as a source of making money. He does not really have any mentors but has support from his friends and parents.
So far, he and his friends have built around 20 computers and do not intend on stopping. Although he has experience in PC building alone, he is encouraged by his parents to go out and learn other areas in computer science.
"It seems more like a hobby right now," Ramsey said. "But, I could see it growing into something I could work for."
Ramsey has found freshman on campus to share his passion with. Jack McMahon '24 built his own computer two years ago, although he didn't have "nearly the knowledge" he has now. They often talk at lunch about new hardware or issues in the market for parts.
"It's really nice to have someone to share this interest with," McMahon said.
Ramsey plans to enhance his computer skills to make it a possible future career. His parents have discussed with him being a computer science major and finding a summer job at a corporation in an IT department.
"My husband and I like that he is able to figure out now if this is a potential career path," Kim Ramsey said. "He is having fun learning about PCs while making a little money on the side."
Nonetheless, Ramsey is going to keep building his craft, learning as much as he can before he decides on his future.
"Most people see building computers as a daunting kind of thing," Ramsey said. "But once you accomplish it, everyone will