5-Year Reunions 3's & 8's
06/04/18
It was a busy alumni weekend with golf and gatherings all weekend attended by numerous alumni. Many made it out to the Mount for the campus gathering and had a great time.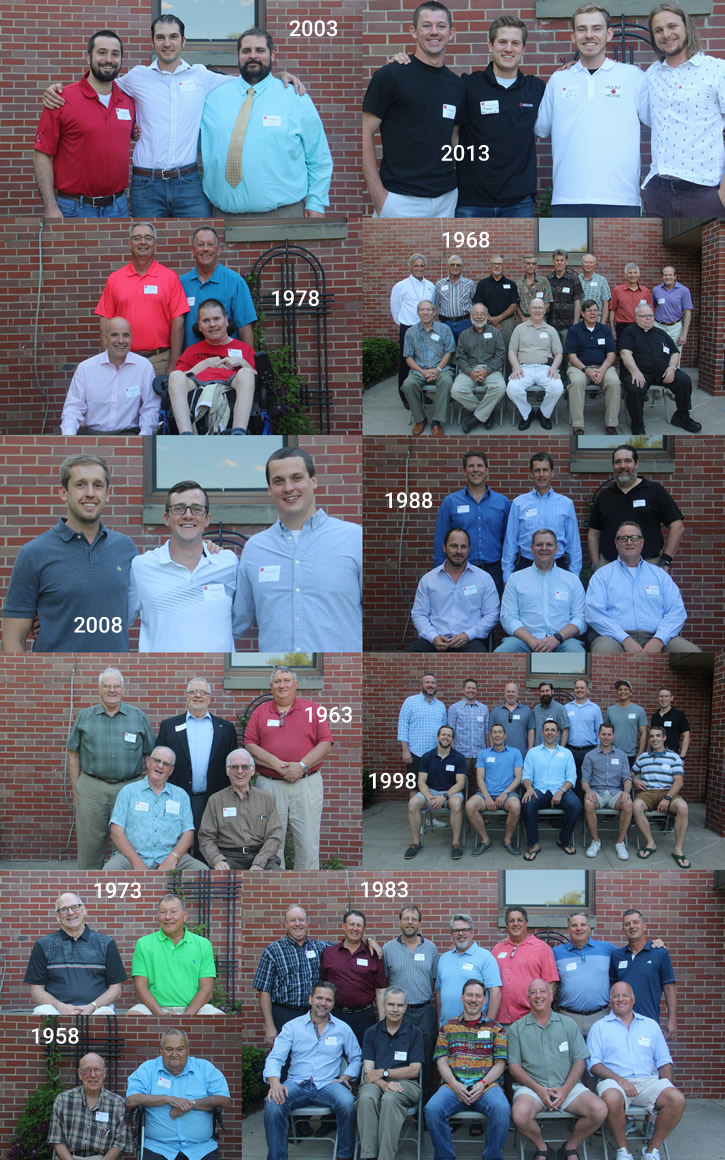 1958: Georg Matz, Joseph Gibney
1963:
Front: Dave Spenner, Harry Bognich
Back: Thomas Beaty, vern Rempe, Leo Parks
1968:
Front: Tom Kowalski, Leonard Gabriel, Steve Baumgartner, Tim Vail, Rev. Michael Malby
Back: Abbot Michael Liebl, David Backer, Jim Krone, Daniel Spenner, Craig Tylski, Harry Lobmeyer, David Springhetti, Mark Theisen.
1973: Jim Leise, Jim Prokopec
1978:
Front: Dave Wilson, Tom Driscoll
Back: Matt Ryan, Dan Leoffelholz
1983:
Front: Jeff Ciurej, Kevin Reilly, Alex Schabauer, Steve Matt, Dave Homan
Back: James Motl, Chris Higgins, Dan Beideck, Paul McCann, Joe Hettinger, Jeff Jamrog, Tim Wilcox
1988:
Front: Tom Devlin, Brian Waldron, Matt Bianchi
Back: Rick Kauten, Paul Higgins, Jacob Render
1998:
Front: Brent Papek, Dylan Spicka, Tim Noerrlinger, David Ostronic, John Eggers
Back: Nick Behrendt, Anthony (A.J.) Stevnes, Brian Teft, Ben Luettel J.P. Haas Rex Lierz, Joe Wolpert.
2003: Joe Kmiecik, John Hall, Richard Akromis.
2008: Andy Jewell, Colton Venteicher, Zach Rohweder.
2013: Mark Loeffelholz, Tommy Maliszewski, Grant Ramm, Jake Recker.