Alum '94 Makes Barron's Top 100 and Thrive Award
10/31/19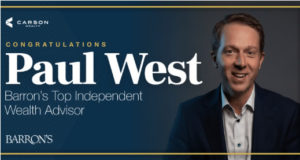 Carson Wealth announced that Mount Michael Alum Paul West'94 has again been listed by Barron's as one of the top 100 Independent wealth Advisors.
The ranking reflects the volume of assets overseen by the advisors and their teams, revenues generated for the firms, and the quality of the advisors' practices. – Barron's.com
Update: Paul West has also recently been made a recipient of the Thrive Award from WealthManagement.com, the leading resource for wealth advisors and planners, the Thrive Awards,  is an annual program designed to celebrate America's fastest-growing advisors. Congratulations Paul!