Benedictine Mission/Pilgrimage Trip
03/06/19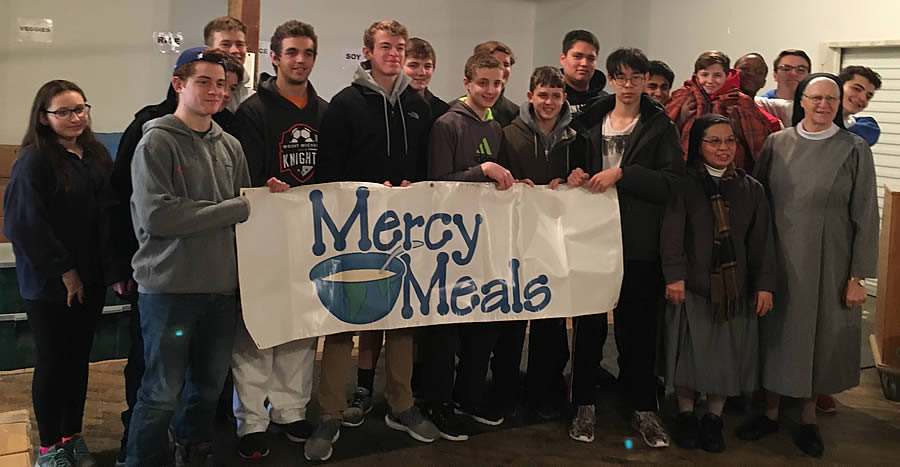 Monday was a very cold day, but the pilgrims braved it well, beginning the mission at Winnebago, Ne. This year not only were the Benedictine Sisters involved, but members of both the Winnebago and Omaha tribes and the clergy of the St. Augustine Parish and Mission — Fr. Mark Beran, Fr. Mark Bridgman and Deacon Don Blackbird — also principal of the mission school. The Mount Michael group was joined by a group from Wayne State College this year and together we were graced to hear the grandson of Susan La Flesche Picotte teach Native American games and tricks. All were treated to a traditional Native American lunch before working— the fried bread was popular as it always is!
Work included – cleaning the church in Macy and setting up the Thrift Store – also some painting. The Walthill group did work in the Food Pantry— cleaning and stocking.
The group then proceed to Norfolk— Immaculata Monastery, arriving in time for Evening Prayer and dinner. Our group had a taste of the Mercy Meals we would be preparing for the needy of the world that evening. But the sisters provided more besides. All Mount Michael students were delighted to spend the night on the 4th floor of the Monastery, each having a private room. After celebrating the Eucharist with the sisters Tuesday morning (the celebrant being a Conception Monk – who assembled the first metal lockers of Mount Michael), the group was given a glimpse of the mission work these Benedictine Sisters do all over the world. Then it was off to work. Near downtown Norfolk, Mercy Meals are measured out and packed to be sent all over the world. Mount Michael's group was joined by the 8th graders of Winnebago and so there were three assembly lines. In the time that these groups worked together, there was over 4,000 meal prepared. The organization was duly impressed with how much was accomplished.
The last part of the mission/pilgrimage was visiting St. Francis of Assisi Church in Humphrey, Nebraska. Fr. John's mother grew up in that area and he wanted to show the students why he was so enamored by Franciscans and had wanted to become a Franciscan when he was a boy.