Family dynamic, international travel shapes freshman's outlook
11/07/19
Previously published in "The Mount" a publication produced by the staff of Mount Michael's Journalism team. Follow the journalism team via Facebook, Twitter, Instagram and YouTube links on https://mountonline.org
By JACOB GATHJE '21
At a boarding high school, students come from a variety of places and backgrounds. Some enter the school during their first weeks within the United States, while others enroll having known and been around the school for years.
Griffin Dyche '23 is one student who comes from a unique background. His mother decided that he would attend Mount Michael when he was a toddler.
"Even before Griffin was born, I had hoped my son would attend Mount Michael," his mother, Katherine Dyche, said. "I have met and worked with several graduates of the Mount and each of these men stood apart as men of integrity and honor. I hope Griffin will gain similar values during his time there."
Along with the traits of the Benedictine values, Griff has discovered other positives at the school.
"I think it has a lot more freedom than other schools," he said. "You can sign out of study hall and go around the grounds."
Even though he enjoys freedoms other schools might not necessarily provide, he and his class are still discovering some of its boundaries as boarding students.
"[Boarding] has been nice, except for when we had to stay up until midnight writing out the handbook," he said. "Some kids were messing around and making noise."
With the barrack-style dorms freshmen live in during their first year, most students may find this hectic living situation to be hard to handle. However, he is used to this, coming from a family with eight children.
He lives with four of his sisters; however, none of his siblings are blood-related, as all of them are adopted.
"I don't know my birth mom," Dyche said. "Only two of my siblings do."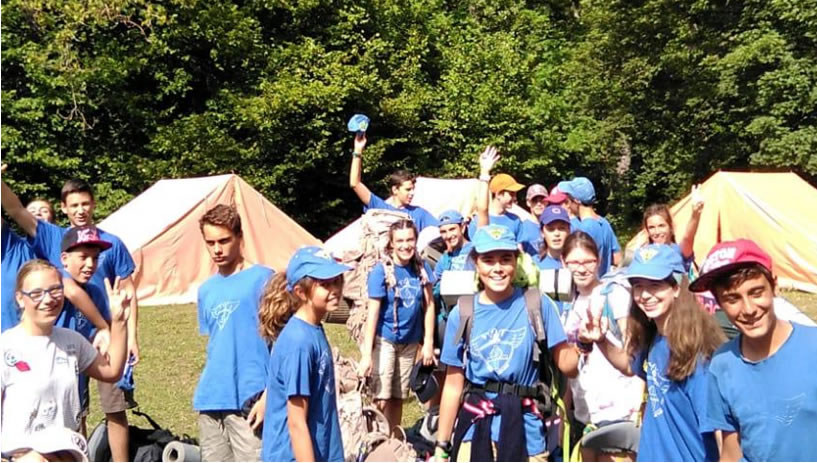 Despite never meeting his birth mother, his adoptive mother and her relationship with her best friend have allowed him and his siblings to experience parts of their lives abroad.
"I have a friend from Madrid who is like a sister to me," Katherine Dyche said. "We hatched a plan when our children were infants to exchange them around 12 or 13 years old. When a person begins to travel at a young age, that person is open to assimilating new experiences into their perspective in a way that older people may not."
This exchange of children has become a tradition for the Dyche family. When Griffin went, he experienced a variety of what Europe has to offer.
"He spent a good two weeks hiking in the mountains with other teens in Spain before going to France," Katherine Dyche said. "In France, he stayed with a family on a farm to have some experience of daily life in agricultural Normandy. While there, he toured some World War I battle sites and cemeteries like the battlefield of Verdun. After his time in France, Griffin returned to the south of Spain, taking a sailing course and doing some surfing."
While some parents may have concerns about sending a middle school student overseas for the summer, Katherine Dyche saw it as a positive experience for her son.
"Our intention when we sent Griffin to Europe was to offer him the opportunity to welcome other cultures and experiences," she said.
All of these different situations have developed what his mother believes to be his greatest trait: optimism.
"Griffin is an optimist," she said. "He assumes the best in others. This made it very easy to send him to Mount Michael or to Europe for the summer knowing he would be open to meeting new people and trying new activities."