Hebert helps immerse students in the study of chemistry
03/30/21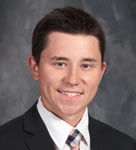 Previously published on The Mount Online a publication produced by the staff of Mount Michael's Journalism  team that also produces the school newspaper The Mount.   Follow them via Facebook, Twitter, Instagram and YouTube links on https://mountonline.org
BY LOGAN WHITCOMB '21
Nicole Hebert gives a lesson to one of her chemistry classes with a slideshow. This year she has worked on giving her online students the same experience as in person students.
During a typical school day, Nicole Hebert instructs at least one student in every period who is attending class remotely. This task has forced Hebert to adapt to having multiple mediums of getting information to her students around the world.
Before coming to teach at the school, she attended Miami University, where she majored in biochemistry. She finished her education at the University of Nebraska at Lincoln where she got a masters degree in Science education.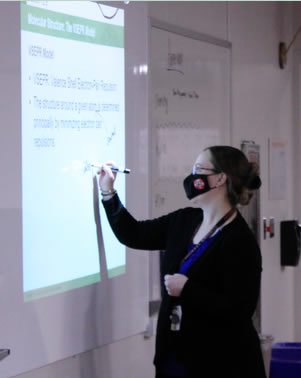 She was positioned at the University of Nebraska High School for two years. Prior to that position, she worked with troubled youth at Uta Halee education center for girls, as well as substituting around Omaha.
University of Nebraska High School is primarily an online school that provides education for students who are unable to attend in person class for various reasons. Hebert's background makes her unique in that she is one of the only staff members on campus that has extended experience with teaching remote students.
"Given my background from the University of Nebraska, I was very prepared for in-person, remote, and/or blended learning," Hebert said.
Teachers and administrators around the world have struggled with the changes that have been forced on the classroom. Hebert has adapted by using several different methods in order to keep online students involved in the classroom.
"I have adapted my teaching to be able to project with my Osmo for virtual labs for remote students as well as use for working out chemistry problems," she said. "For students who have lived close, I have been able to create lab kits to-go so students can try at home."
Hebert has at least one remote learning student in every one of her classes, so her experience and teaching style has assisted a large number of students in staying on pace with the rest of the in-person class.
Jacob Moore '21 has been attending her applied biology and chemistry class from his home and has benefited off her adapted teaching style.
"She helps get me involved by providing lab supplies for me and has my peers take the iPad with them to the lab station," Moore said. "It helps me stay more connected and see the lab firsthand while being able to socialize with my peers."
Being a boarding school, Mount Michael has provided Hebert with a unique teaching environment that not many teachers get to experience.
"I love the diversity and inclusion at Mount Michael and getting to know a wide range of backgrounds and experiences," she said. "You can clearly see the brotherhood bond within the student body."