Homecoming 2018
09/24/18
Homecoming is a great fall tradition at The Mount. During homecoming week students and staff dressed according to a different theme each day. Blackout was Friday's game day theme and everyone dressed in black.
One of the weekday highlights every year is the bonfire (Photos)  held on Wednesday evening after family night visits. The Waterloo fire department was on hand to keep the flames in check! During the bonfire the coaches for each of the fall sports, tennis, cross country, and football, presented their senior leaders and said a few words on their seasons so far.
On Friday, the final prep rally took place in the gym led by Mount Michael's yell leaders. (Photos)
First Knight
During halftime of the football game the "First Knight" was announced. The First Knight award is given to the senior nominee chosen by a vote of the entire student body and faculty. The final three nominees and their parents are presented to the crowd before the announcement. The three nominees included: Temi Adeyemo, Sebastian Cardenas, and Patrick Collins. Temi Adeyemo '19 was voted First Knight!- More Photos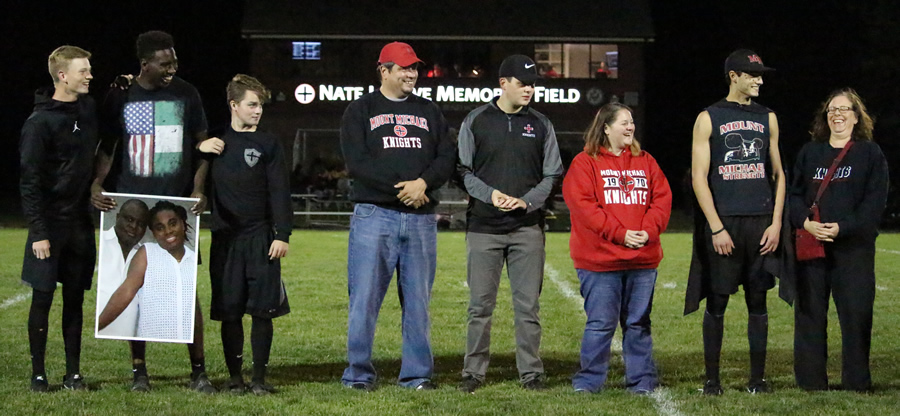 Temi Adeyemo:  Temi's parents are Olanike and Abiodun Adeyemo.  Temi attended Ibadan International School in Nigeria for elementary school and Fort Clark middle school.  He is currently involved in soccer and the Operation Others core team.
Sebastian Cardenas was accompanied by his parents Phil and Laura Cardenas.  Sebastian attended Our Lady of Lourdes for elementary and middle school.  He is currently the football manager and will be going on the Mexico mission trip.
Patrick Collins was accompanied by his parents Charlie and Kara Collins.  Patrick attended St. Margaret Mary for elementary and middle school.  He is currently involved in baseball and speech and is a yell leader.
After the game, the Alumni Association held a 5th Quarter in the student union for adults.  About 40 alum attended this event.
To wrap a week of festivities, the homecoming dance was held Saturday night in the Armory and gym. Close to 500 Mount Michael students and their female guests attended the fun filled evening.