"Learning to Land on My Head": The Mount's Second-ever Diver
02/25/22
Previously published in "The Mount" a publication produced by the staff of Mount Michael's Journalism team. Follow the journalism team via Facebook, Twitter, Instagram and YouTube links on https://mountonline.org
BY JURGEN BELLER '21
Easton Crouse '25 is bringing a new dynamic to the swim team. Crouse is an experienced diver and is stepping up to the role as Mount Michael's only varsity diver.
Crouse has been diving competitively for the past six years for Omaha Dive Club. Diving has been a big part of his life, and he has become an expert in his craft, even winning nationals individually twice, once in 2017 and again 2018.
"I love to see how good I can get at a single dive," Crouse said. "And I have got pretty good in a few of them to be enough to win me nationals."
He first went into the diving field as a gymnast. His background in gymnastics helped him as a diver since he already has experience doing tricks in the air.
"I felt like I was a good fit for diving," Crouse said. "The only difference for me was learning to land on my head instead of my feet."
Crouse is only the second diver the Mount has ever had. Holding this weight as only a freshman, Crouse has adapted to the high school level and has contributed to the team's success so far.
"It's hard to be the only diver on the team, but he is handling those circumstances very well," Swim Coach Todd Leutzinger said.
Easton is already a high scoring diver. However, Coach Leutzinger is working with him to reach the next level with his abilities.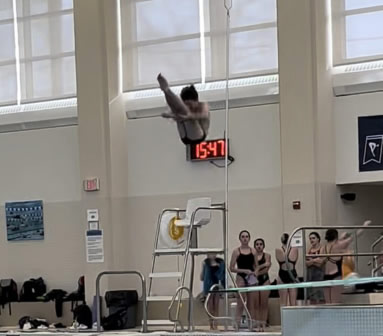 "It is very useful to have someone to fill the role of winning us points at meets," Coach Leutzinger said. "But we are working very hard with him so that he can excel at the highschool level."
The most challenging part of improving Crouse's dives is getting over mental blocks. At times, Crouse has fallen into a scary, yet common, phenomenon for divers where they mess up on a dive and then psyche themselves out, making it hard to do the dive again.
"I am just getting out of a difficult one for my twisting front 1-1/2 full," Crouse said. "They take a lot of hard work and confidence to just go for it to get over it."
There are no mental blocks affecting his diving right now as he is a high-placing diver at every meet. Right now, he is just trying to have as much fun messing around with friends at meets and enjoy his time as a freshman on the team.
"This season is flying by, which I think is because I am having a blast," Crouse said. "I can't wait to continue improving and making memories."
The swim team also has a blast watching Crouse. He attracts a large crowd to every meet because of how exciting it is to watch him perform.
"Other than my own events, watching him dive is definitely the highlight of the meets," Xavier Johansen '22 said. "He has a lot of talent, and I can't wait to see how he develops."
Kevin Koch '11 was the first ever diver for Mount Michael, so he shared Crouse's challenges and expectations to overcome boundaries. As the pioneer for the sport at the school, Koch achieved a lot of success placing top three in state for three consecutive years and qualifying for All-American.
"Diving was very unique to my high school experience," Koch said. "I wish Easton the best of luck as he competes to the best of his abilities and has the time of his life like I did."