More than tricks: Hobby becomes rare opportunity
03/06/20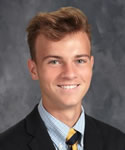 Previously published on The Mount Online a publication produced by the staff of Mount Michael's Journalism team that also produces the school newspaper The Mount. Follow them via Facebook, Twitter, Instagram and YouTube links on https://mountonline.org
BY HENRY HOHMAN
Most people have a hobby, something they turn to in their free time. The same goes for Griff Wyse '21, who enjoys something most people have not heard of: cardistry.
Cardistry is a performance art that consists of flourishing cards in creative ways. Many believe it to be magic, but this could not be further from the truth.
"It is almost like a combination of juggling and skateboarding," Wyse said. "There are set tricks that everyone in the community knows, but you can also create your own 'flourishes' or moves."
Wyse started in 2016 by watching tutorials on YouTube. While searching for card magic tutori­als online, he stumbled upon tutorials by Fontaine Cards, which is one of three major cardistry-fo­cused playing card companies in the community.
"I wasn't very good at first, but it felt like almost instantly I was hooked. I was so avid to keep learn­ing, as it was like no other medium of art I'd tried," Wyse said.
Wyse has carried a deck of cards in his hands nearly every day since he started, experimenting, creating, and practicing his already finished moves.
"Just like any other art form, there are certain traits that make a move 'good.'" Wyse said. "All good moves have a sense of rhythm, structure, and har­mony. Creating moves is what I enjoy about cardis­try, it's almost addicting to me."
With a worldwide community, many fans con­gregate on the social media platform Instagram. An exact amount of members is hard to pinpoint, but community Instagram pages such as "BestCardis­tAlive" and the Cardistry Reddit page both boast a following of about 70,000.
Since it is a global community, it is difficult for cardists to see each other and "jam," the term used for physical cardistry meet-ups. Wyse keeps up with his companions over Skype, where group-calls are the norm in the scene.
Once a year, however, there is Cardistry-Con. This convention shifts locations yearly, and has re­cently been in Brooklyn, N.Y.; Berlin; Los Angeles; Hong Kong; and Portland, Ore.
When attending the 2017 convention in L.A., and, more recently, the 2019 convention in Port­land, Wyse caught up with long-time cardistry friends, made new friendships, and met the "pros".
"It's something that every cardist looks forward to or hopes to attend. I saw some friends that I saw in L.A, and met some that I'd only talked to via Skype," Wyse said. "It's a great time, and it's very in­spiring and motivating to meet and converse with creators that I look up to, those whose opinions are most highly regarded in the community."
Most recently, Griff 's cardistry experience came full circle when he was offered a tremendous op­portunity. Owner and Founder of Fontaine Cards, Zach Mueller, flew out to Omaha from Los Angeles to film a performance video starring Wyse and his creations in order to promote a new deck of cards soon to be released.
"Zach approached me on Instagram after seeing the moves that I had posted and asked if I had any more saved up," Wyse said. "Luckily, I had, and we promptly started planning the video."
The next weekend, he flew out and we spent all weekend filming around 18 hours over two days.
"It was very grueling, yet very fulfilling as all my hard work had paid off, and I could only dream of being in a Fontaine video ever since I started," Wyse said.
Despite school becoming more tasking and col­lege being just around the corner, Wyse says he has no plans of giving up the pastime that he holds so dear. Rather, he is still working to find the perfect balance between completing his school work and cultivating his craft.